Visitors:
Point-NeRF: Point-based Neural Radiance Fields
(CVPR 2022 Oral 🤩🤯🔥)
A high performance novel neural radiance representation.
---
Oral Presentation @ CVPR 2022
Abstract
---
Volumetric neural rendering methods like NeRF generate high-quality view synthesis results but are optimized per-scene leading to prohibitive reconstruction time. On the other hand, deep multi-view stereo methods can quickly reconstruct scene geometry via direct network inference. Point-NeRF combines the advantages of these two approaches by using neural 3D point clouds, with associated neural features, to model a radiance field. Point-NeRF can be rendered efficiently by aggregating neural point features near scene surfaces, in a ray marching-based rendering pipeline. Moreover, Point-NeRF can be initialized via direct inference of a pre-trained deep network to produce a neural point cloud; this point cloud can be finetuned to surpass the visual quality of NeRF with 30X faster training time. Point-NeRF can be combined with other 3D reconstruction methods and handles the errors and outliers in such methods via a novel pruning and growing mechanism.

Pipeline
---
Overview of Point-NeRF. (a) From multi-view images, our model generates depth for each view by using a cost volume-based 3D CNNs and extract 2D features from the input images by a 2D CNN. After aggregating the depth map, we obtain a point-based radiance field in which each point has a spatial location, a confidence and the unprojected image features. (b) To synthesize a novel view, we conduct differentiable ray marching and compute shading only nearby the neural point cloud (e.g., Xa, Xb, Xc). At each shading location, Point-NeRF aggregates features from its K neural point neighbors and compute radiance and volume density then accumulate radiance using density. The entire process is end-to-end trainable and the point-based radiance field can be optimized with the rendering loss..
---
DTU
---

---
NeRF Synthetic
---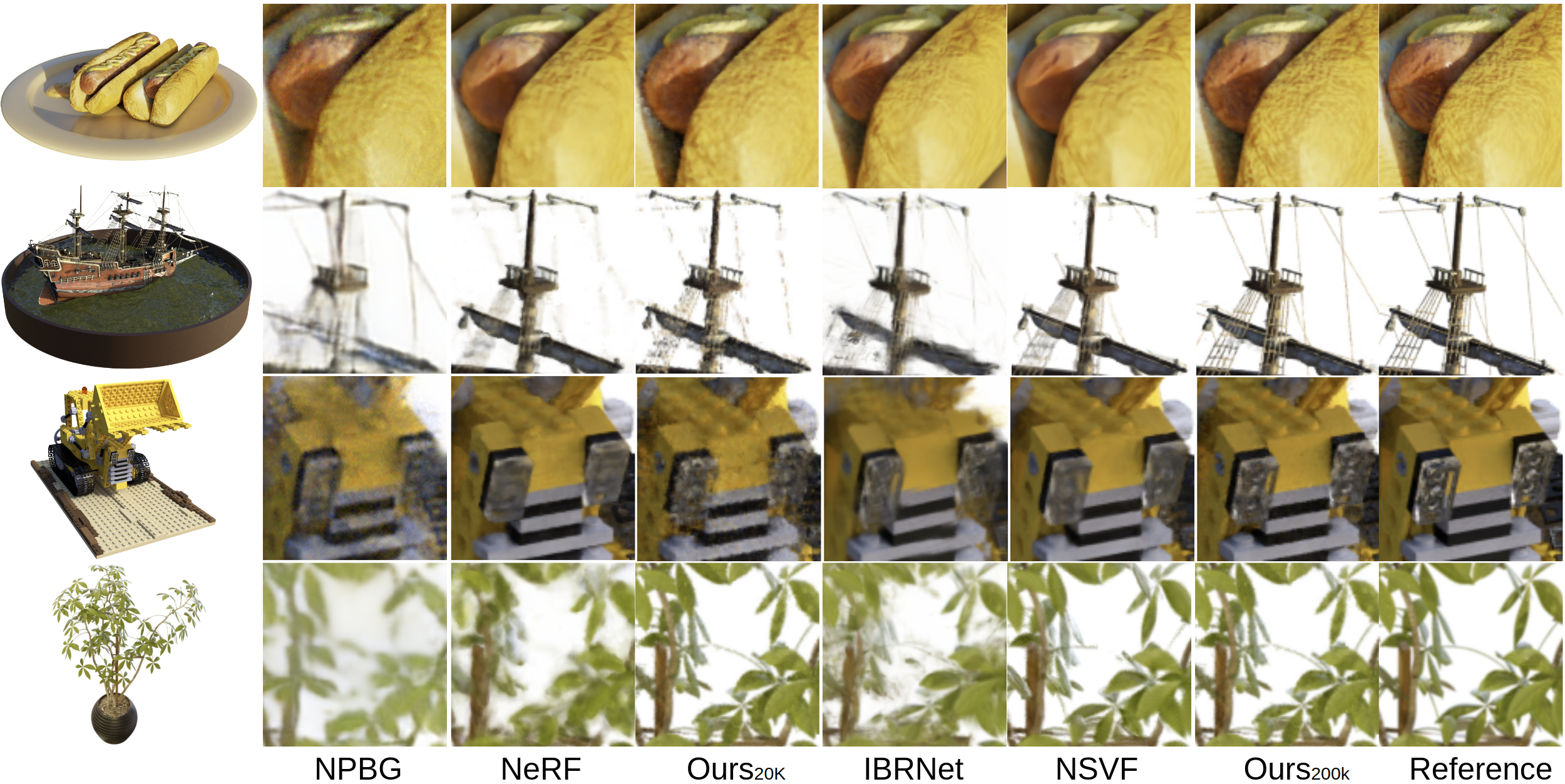 ---
---
---
Point Growing
---
Progressively Optimize the inital COLMAP Points
&nbsp &nbsp
Grow Out the Complete Point Cloud from 1000 Points
---
Bibtex
---
@article{xu2022point, title={Point-NeRF: Point-based Neural Radiance Fields}, author={Xu, Qiangeng and Xu, Zexiang and Philip, Julien and Bi, Sai and Shu, Zhixin and Sunkavalli, Kalyan and Neumann, Ulrich}, journal={arXiv preprint arXiv:2201.08845}, year={2022} }
---